NorCal NECA/Local 595 – Safety Poster Contest
Grab your pencils, crayons and markers, and use those artistic talents to illustrate the spirit of safety. One winner in each of the following age categories will receive a $25.00 gift card:
6 and Under
7 – 12
13 – 17
18 & over
Drawings must be received at the NECA or IBEW Local 595 Office no later than 3:00 PM on Friday, September 10, 2021. Limit one drawing per person. Winners will be announced by e-mail. Participant artwork will also appear in the 2022 Safety Calendar!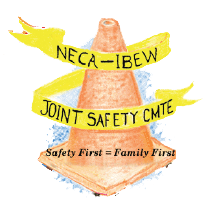 Rules:
Create artwork theme on Outdoor Safety!  Examples include camping, hiking, biking or electrical safety.
Use blank letter sized paper for your drawing. Please be sure to include the artist name, age, date, mailing address and e-mail address on back of artwork if mailing or dropping off at NECA/IBEW Local 180 Office.
Original entries can be uploaded below or mailed/dropped off at the NorCal NECA office (7041 Koll Center Parkway, Suite 100, Pleasanton, CA 94566) or the IBEW Local 595 Office (6250 Village Parkway, Dublin, CA 94568 or 1531 El Pinal Street, Stockton, CA 95205)