Construction Scheduling for Managing Projects:
Basic & Advanced Principles and Practices
Sponsored by the Northern California Chapter, NECA Member Services Committee
Dates:  Thursday, February 21, 2019
Time:  8:00 AM – 3:00 PM
Location:  Stockton Training Center – 1531 El Pinal Drive, Stockton, CA
Cost:  $350.00 for NECA Members
Note: Registration must be paid prior to the class.
About the Instructor:  Dr. Awad S. Hanna is a Professor and Chair of the Construction Engineering and Management program at the University of Wisconsin-Madison, Department of Civil and Environmental Engineering. Dr. Hanna holds M.S. and Ph.D. degrees from Penn State University and is a registered professional engineer in the United States and Canada. Dr. Hanna has conducted numerous research studies for the Electrical Contracting Foundation and teaches multiple courses for NECA Education as well as consults and assists electrical contractors in recovering productivity losses related to change orders acceleration and compression, delay and trade stocking.
Space is limited, so please register soon!
Target Audience: Project Managers, Superintendents, Estimators, Project/Field/Design Engineers, Contract Administrators.
Course Description: The primary objective of this course is to provide an introduction to principles of network scheduling and its potential impact on delay claims by the contractor. The second objective is to provide a hands-on workshop environment where attendees will have an opportunity to work in pairs to create a simple CPM schedule based upon the predetermined criteria and to discuss the issues involved. Although computer applications will be discussed, the workshop program involves a basic hand-drawn logic diagram and schedule activities.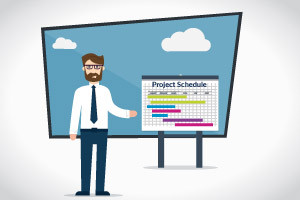 Complete the below registration form to confirm your attendance.
Note: Classes are subject to cancellation one week in advance, in the event sufficient registration is not received. No refunds one week prior to class.
Contact Juanita Mitchell at the Chapter office (925) 828-6322, should you have any questions.